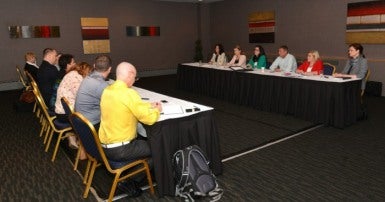 MONTREAL – This Thursday afternoon, the Air Transat flight attendants' union asked the federal government to initiate a conciliation process for ongoing negotiations. Approximately 1,750 cabin crew members have been working without a collective agreement since November 1. Since the negotiation process started in September 2015, there have been 18 negotiation sessions.
Earlier Thursday, the employer's representatives presented a global proposal to the union, who judged it to be totally inadequate. This led to their decision to have recourse to a federal conciliator.
"Many non-monetary items have been resolved since last fall. On the other hand, several issues remain outstanding, most importantly, reduced on board crew, the duration of the work period, salaries and premiums," said Martyn Smith, president of the Air Transat Component of the Canadian Union of Public Employees (CUPE).
"In its global proposal, the employer has maintained its demands for concessions and has largely rejected union demands. Despite this, they claim that they urgently want to conclude negotiations. If they really want a speedy settlement, they should be more open and flexible," said Smith.
Under federal law, the conciliator must be appointed within 15 days. Then, the conciliation period will last 60 days, or longer at the request of both parties. If no agreement has been reached by the end of this period, the Union could obtain the right to strike with 72 hours' notice.
Predominantly female, Air Transat cabin personnel come under CUPE locals 4041 in Montreal, 4047 in Toronto and 4078 in Vancouver. These local unions are part of a national structure, the Air Transat Component of CUPE.
CUPE is Canada's largest union with over 635,000 members across the country. Its airline division represents approximately 10,000 members in seven airlines: Air Canada (including the low-cost carrier rouge), Air Transat, Sunwing, Cathay Pacific, Calm Air, First Air and Canadian North.
Information :
Karine Rainville, CUPE National Representative, 514-884-4426
Sébastien Goulet, CUPE Communications, 438-882-3756