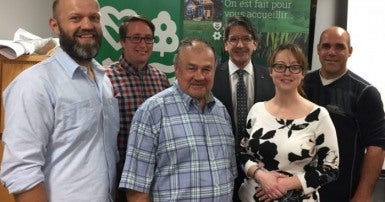 On Tuesday, May 23, employees of the City of Bécancour signed their collective agreement, which includes wage increases of 14% over seven years.
In addition to wages, the key points in the agreement are an improved employment floor and a clause on staff mobility when a position is abolished. The Union is also satisfied with a clawback clause for employees required to work overtime at night.
"We are satisfied with this agreement, and with the way the employer moved into solution mode at one stage of the negotiations. This allowed us to settle with the employer, while maintaining positive, constructive relations," explained union president Dany Lamothe.
The bargaining committees also agreed on the terms of social leaves, to be taken consecutively or not, thus accommodating bereaved members.
The City also committed to taking the necessary steps to improve vehicle availability for employees who are required to transport equipment or travel to a site, an issue that has been of concern to members for a long time.
Finally, it should be noted that the parties also concluded the restructuring of the pension plan under Act 15.
The nearly 100 municipal employees of Bécancour – white collar workers, professionals and blue-collar workers – are all members of the same union, which has been represented by CUPE for over forty years.
With more than 110,000 members in Quebec, CUPE represents about 70% of the province's municipal employees, or 31,600 members. CUPE is also present in the following sectors: health and social services, communications, education, universities, energy, government corporations and public agencies, urban, air and maritime transport, and the mixed sector.