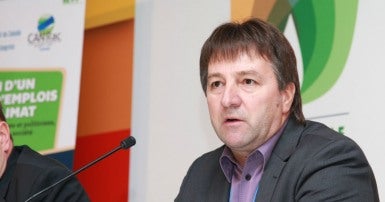 The climate change agreement that has come out of the Paris Conference of the Parties (COP21) is best viewed as a starting point for more work ahead. The Paris agreement signals progress on climate change being made, but cuts in greenhouse gas emissions need to intensify to slow the worst effects of a warming world. The threats climate change poses have been recognized, but bolder steps are needed to ensure a just and equitable future for working people and vulnerable communities.
Key positive outcomes include:
For the first time, 195 national governments, plus the European Union, have committed to action to limit climate change.
The agreement aspires to restrict warming to 1.5⁰C, which is an achievement, given the goal was 2⁰C going into the

COP

.

A signal has been sent that an industrial transformation is underway.   
Shortcomings of the agreement include:
The goal of unions to embed Just Transition language in the core section of the agreement was not reached. There is language in the preamble, meaning it is more of a reference point or a political statement than a central, binding provision.
The current governmental promises to cut greenhouse gases are not consistent with the ambition to limit warming to 1.5⁰C. Current national targets to cut emissions are on a 2.7⁰-3⁰C pathway of warming. Steps are needed to close this gap.

Governments are still not committed to $100 billion per year in financing for climate change adaptation support for vulnerable communities and developing countries.
CUPE sent delegates to join the International Trade Union Confederation (ITUC) to push for Just Transition language in the agreement, strong ambition to cut greenhouse gases, and financing for developing countries. CUPE also participated in labour and civil society side events at the conference.
Charles Fleury, national secretary-treasurer of CUPE, is pleased with CUPE's participation at the COP but says there is more work ahead.
"An imperfect agreement is better than no agreement at all, but now the real work continues," says Fleury.  "While the agreement aims to restrict warming to 1.5⁰C, current government commitments to cut emissions won't deliver on this goal. This is where CUPE needs to work to hold Canadian governments accountable and to continue to fight for action on climate change that brings workers along as part of the solution, while creating good, green public sector jobs."
Sharan Burrow, general secretary of the ITUC, echoed Fleury saying the global labour movement is committed to combating climate change. "Trade unions know that the road was never to Paris but through Paris," said Burrow. "Our resolve to manage a just transition in the face of the largest and most rapid industrial transformation in human history is stronger than ever."