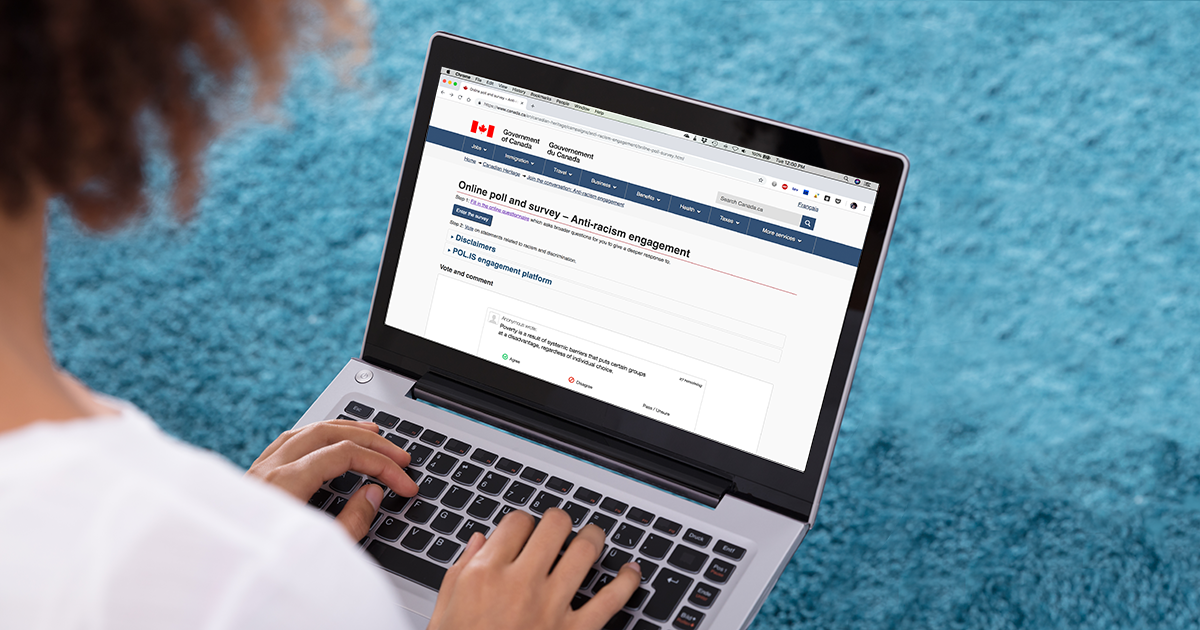 CUPE welcomes the federal government's consultations on racism and systemic discrimination and encourages members to take part. These consultations will inform the development of a national anti-racism strategy, which was announced in the federal government's 2018 Budget.
Racism is deeply embedded in cultural norms, attitudes and institutions in Canada. The impact is real and devastating on racialized and Indigenous workers, who make up approximately 18.5 per cent of CUPE's membership. An effective national anti-racism strategy would be a key step towards ending the daily discrimination thousands of our members face on the job and in their communities. 
Take part in the online survey!
CUPE members can take part by completing the government's survey here. The government has also provided a discussion paper to set the context.
The anti-racism survey focuses on three areas: employment, justice and social participation.
Employment
Employment is a key concern for racialized and Indigenous peoples who are often underrepresented in workplaces and found in lower paid, part-time and more precarious jobs. They face barriers to employment due to racist attitudes, assumptions and policies and are often the first victims of cuts, downsizing, restructuring and privatization.
Employers have a responsibility to ensure that workplaces are free from discrimination. They can achieve this by removing barriers to employment and implementing proactive employment equity measures. The federal government has an important role to play in enforcing employment equity measures for federal sector workers and promoting proactive legislation and programs with their provincial government counterparts. The federal government should also end discrimination against migrant workers by ensuring they have full access to labour and human rights. 
Justice
The theme of justice is also a crucial one for racialized and Indigenous peoples. Systemic racism often makes public spaces unsafe for them because of the discriminatory practice of racial profiling by police. Recent reports in Canada have shown that racialized and Indigenous peoples are far more likely to be stopped and questioned by the police, and they often suffer police violence and endure unjust incarceration.
There is much work for the federal government to do in this area, such as taking leadership on truth and reconciliation, eliminating practices of racial profiling among federal law enforcement officials and working with provincial governments to eliminate these practices at provincial and municipal levels.
Social participation
The third theme of social participation includes access to meaningful opportunities to participate in the collective life of the wider community. Racialized and Indigenous peoples face barriers to participation as a result of inadequate employment opportunities, disproportionately low incomes and lack of public services. They are often geographically marginalized in communities which lack health care, education and training, social services, child care and community-based sports and recreational services. Many Indigenous communities lack basic services and infrastructure such as facilities for clean drinking water, adequate housing and properly funded schools. 
A national anti-racism strategy must include increased funding from federal and provincial governments for these crucial public services, not cuts to services and privatization. The federal government must also urgently address the need for equitable funding for Indigenous communities in order to make significant headway toward meaningful reconciliation.
For all these reasons and more, CUPE encourages its members to make their voices heard. Help shape the federal government's anti-racism strategy by taking part in the online survey.
The survey closes December 9, 2018. Take part today!
Take the survey here.