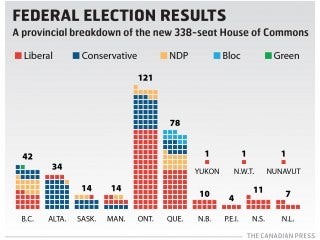 Archana Rampure | CUPE National Services
Many Canadians rejoiced on October 19, when Stephen Harper's Conservative government was washed away by a wave of Liberal support. On the positive side, the new government is positioning itself as considerably more socially progressive than its predecessors. However, their plan for the economy does not look much different from the Conservatives.
Now months removed from that election, we're starting to get a clearer picture of what the new government has in store.
Child care
The creation of a national child care program would be the most important new social program since Medicare.  We have made the case that child care is good for the economy and good for families. The Liberals will work on a new national early learning and child care framework with some funding from their "social infrastructure" pot. But this is far from a national plan and could lead to more child care delivered by the private sector.
Health care
The Liberals promised to "immediately convene" a meeting of first ministers to negotiate a new Health Accord, but made no commitment to reverse Harper's $36 billion cut. Federal health policy may well parallel Ontario's: attempting to deal with inadequate acute and long-term care by increasing private care. On Pharmacare, the Liberals support bulk buying and perhaps a catastrophic drug plan that kicks in when drug costs exceed some percentage of household income.
Pensions
When Liberal Finance Minister Bill Morneau met with provincial finance ministers in December 2015, they shelved Canada Pension Plan expansion until future meetings. Morneau is not personally supportive of CPP expansion, so there is real cause for concern. The Liberals may also attempt to use CPP/QPP funds as vehicles for infrastructure privatization. Finally, they have been silent on the proposal to allow retroactive conversions of defined benefit plans into target benefit plans in areas of federal jurisdiction.
Infrastructure
The big election promise from the Liberals was to increase infrastructure spending by $60 billion in 10 years. A total of $125 billion will be spent in three key areas: social, transit, and green projects. Transit funding will prioritize investments in roads, bridges, transportation corridors, ports, and border gateways. Social funding will prioritize investment in affordable housing and seniors' facilities, early learning and child care, and cultural or recreational infrastructure. Green funding will prioritize local water and wastewater facilities, climate resilient infrastructure, clean energy, and clean-up of contaminated sites to facilitate new construction.
Good news: the new government quickly removed the mandatory P3 screen, a requirement to consider P3s for any project over $100 million. Bad news: the Liberals are committed to "alternative financing and procurement" so expect to see more privatization and contracting-out.
Labour law
With the introduction of Bill C-4, The Liberals are moving on their commitment to repeal Bill C-377 (mandatory union disclosure) and C-525 (makes organizing harder in the federal jurisdiction).
Post-secondary education
During the election the Liberals promised to increase federal student grants by $3.3 billion. Additional commitments to Canada's students included plans to expand the Repayment Assistance Program to ensure no graduate with student loans is required to make repayments until they are earning an income of at least $25,000 per year, and to delay interest charges on tuition fees.
Democratic reform
Trudeau pledged that this election was the last first-past-the-post election. He's committed to establishing an all-party committee to look at electoral reform (including proportional representation and ranked ballots) with legislation on electoral reform coming within 18 months of forming government.
First Nations
An inquiry into murdered and missing aboriginal women has been announced. The Liberals made a campaign pledge to end all boil water advisories on First Nations' reserves within five years. They also promised to increase spending on education and to implement all 94 recommendations from the Truth and Reconciliation Commission.
Trade
The Liberals generally support free trade, and support the CETA and the TPP trade deals in particular. They are also indicating that they want to pursue trade agreements with China and India. So far they've been silent on TiSA, which will put public services at risk.
Analysis
Voter turnout increased significantly: from 61.1 per cent in 2011 to 68.5 per cent in 2015. 2.7 million more Canadians cast ballots in 2015 than in 2011.
The Conservative vote total did not change much compared to 2011. The NDP lost one-quarter of their vote, but the main story is the increased turnout, with that turnout going almost entirely to the Liberals.