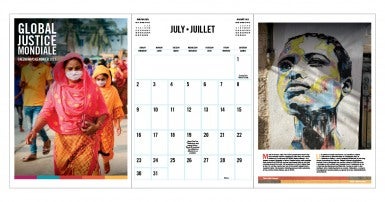 CUPE's 2023 Global Justice Calendar highlights international solidarity actions around the world.
The calendar profiles workers and members of grassroots movements organizing for labour rights, gender justice and human rights, as well as our shared struggles fighting privatization, demanding vaccine justice and challenging violence and oppression.
Many of the moments captured in the calendar feature the courageous activism of CUPE partners. Worker-to-worker connections are at the heart of CUPE's international solidarity work.
Strengthening the global labour movement and building relationships with workers and community allies around the world is essential to our collective fight for human and labour rights, decent work, strong public services, justice and peace.
Learn more about CUPE's international solidarity work, and support CUPE's Global Justice Fund, at cupe.ca/international-solidarity