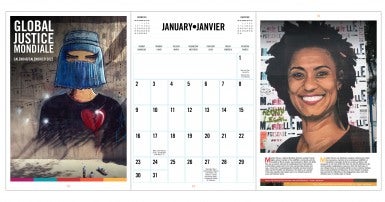 CUPE's 2022 Global Justice Calendar profiles street art and graffiti from around the world.
Street art and graffiti have a rich history of contributing to resistance movements and amplifying demands for justice, liberation and human rights. This accessible and powerful form of communication uses the urban landscape as a canvas for change.
In our 2022 calendar we have gathered images of social movement icons, the voices of marginalized and oppressed people, and urgent messages of hope, resilience, and dissent.
The calendar features well-known and unknown artists, as well as the work of two artist collectives: SAKA (Sama-samang Artista para sa Kilusang Agraryo/ Artists Alliance for Genuine Land Reform and Rural Development) in the Philippines, and Lapiztola in Mexico.
Since 2017 SAKA artists have used art to advocate for peasant rights and social justice in the Philippines. The majority of Filipino people are farmers who struggle for rural development, land rights and food security.
The Lapiztola Collective takes its name from the Spanish words lapiz (pencil) and pistola (pistol). The collective was born in 2006 in response to state violence suppressing a teachers' strike, and produces work that highlights and denounces injustices
Many urgent messages on streets and walls are unsigned. The street artists behind other powerful messages of hope and resistance are well known, including Shamsia Hassani, Zabou, Keyvan Shovir, Lolo Góngora Acuña, Yesgraff and Luis Bueno.
Together, the images celebrate how graffiti and street art speak directly to people and build solidarity.