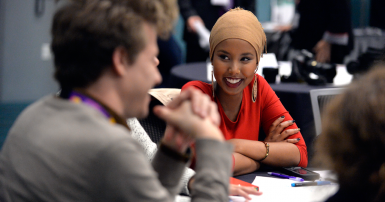 Delegates gathered at convention to discuss the issues facing young people in the workforce, and to imagine what a modern, inclusive and diverse labour movement would look like.
The evening started with small group discussions about the issues facing young workers, and what kind of strengths young workers bring to the labour movement. Many topics were discussed including two-tiered benefits, precarious work, climate change, student debt, lack of affordable housing and austerity measures.
Participants then heard from Bilan Arte, the Chairperson of the Canadian Federation of Students.
"Student worker solidarity is important," said Arte. "Many students are also CUPE members. We appreciate the work CUPE does. Anything we can do we support each other helps our collective struggles."
Anastasia Gaisenok, the Executive director of Check Your Head, a youth-driven not-for-profit organization based in Vancouver, also spoke about how to engage youth who are often busy juggling work and school.
"We need to talk about the value of collective action," Gaisenok added.  "We call it collective bargaining for a reason – it affects more then us as individuals. How do we rise above purely individual interests and work together based on the value of collectivism?"
The evening ended with participants writing and drawing their vision for the future of the labour movement on a "Graffiti Wall" while grooving to the tunes of DJ Timothy Wisdom.