Charles Fleury
 | 
CUPE
 National Secretary-Treasurer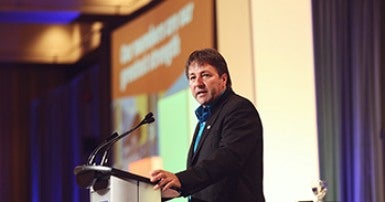 Since winning their majority in 2011, the Conservatives have embarrassed us on the world stage by making Canada the only country to pull out of the Kyoto Accord. They've worked with the Liberals to attack our individual rights and freedoms by passing Bill C-51. They've completely disregarded pressing issues like student debt and youth unemployment, creating a generation of unequal opportunity. But what if the two thirds of young voters who stayed home in 2011 had voted?
Maybe Stephen Harper would not have gotten the 6,201 votes he needed in 14 key ridings to win a majority. This time, if more of the 5.5 million young Canadians that are eligible to vote cast their ballot on October 19, we can replace Stephen Harper. But even more importantly, we can finally elect a government that stands with all workers if we vote for Tom Mulcair and the NDP.
By voting NDP, we are supporting a team that is ready to implement the change that matters to workers and their families, like $15 per day quality child care, stronger public health care, good jobs and sustainable development, as well as better pension protections so that all generations are equal when it comes to retirement security.
Not only does the current NDP caucus have the most diversity in Canadian history, both in terms of the number of women and youth MPs, but it also shares young Canadians' passion for justice, democracy and equality. Don't just take my word for it, look at their concrete proposals on proportional representation, aboriginal sovereignty and workers' rights.
 To make sure Stephen Harper doesn't have another four years to inflict more damage onto Canada's future generations, all workers need to vote. And if you want to elect a government that will create a stronger, fairer Canada today, and in the future, vote for Tom Mulcair and the NDP.