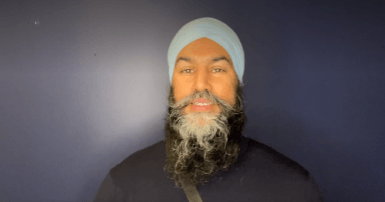 NDP Leader Jagmeet Singh addressed CUPE delegates on the closing day of the 2021 National Convention. He thanked CUPE members for everything they have done on the frontlines throughout the pandemic. Recognizing how difficult things have been for frontline workers and their families, he assured delegates that "the NDP will be there for you every step of the way."
Following the election, the NDP again finds itself in a position to push a minority Liberal government to help families and working people. He called for Justin Trudeau to implement paid sick leave 22 times during the pandemic, but Trudeau rejected these calls until he could use the issue as an election campaign promise. Singh vowed to hold Trudeau to this promise.
Singh outlined the need for a pandemic recovery that focuses on people. "Too often, Liberal and Conservative governments have helped those at the very top in a recovery," he said. "But they've left workers behind." He vowed to push for improvements to Employment Insurance, so that it works for all people. Currently 60 per cent of Canadians do not qualify for EI. Singh highlighted the need to fight for good wages, and national pharmacare and dental care programs.
With the climate crisis at the top of peoples' minds, especially in BC, Singh stressed that there is no way to fight the climate crisis unless we make sure that workers aren't left behind. New Democrats will make sure that there is a clear plan to invest in good jobs for a just transition in the economy.
The NDP pushed the Liberal government to improve supports for workers during the pandemic and Singh vowed to continue during the recovery. "You can count on us to fight for you and your families," he said. "We will always be there for you."