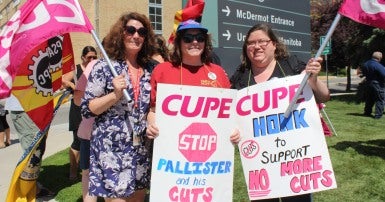 The WRHA has once again announced a slew of cuts to patient care and privatization of services that will directly affect Manitobans and the front‑line health care workers who provide the services.
The WRHA announcement cuts deeper than before, with whole clinics being shut down, and promises to reduce staffing levels in WRHA facilities.
Among those clinics being closed are:
Four QuickCare clinics;
The Corydon Primary Care Clinic, which specializes in diabetes care;
The Mature Women's Centre, a multi-disciplinary facility which specializes in gynecological issues, including menopause transition and hysterectomy alternatives.
"At this point we can safely say that health care in Manitoba is in distress," said Debbie Boissonneault, President of CUPE's Provincial Health Care Council.
"This government is going too far, too fast, and someone is going to get hurt."
There has been no indication how many front-line workers will be cut, but the WRHA irresponsibly claims that Manitoba has "too many" health care workers.
The announcement suggests a planned reduction of front-line staff by claiming the WRHA will introduce new staff-to-patient ratios and "mixed" duties, with no further details.
"Brian Pallister said that he will 'protect' front line workers," said Boissonneault, "But this government has finally come out with the truth: there will now be fewer front-line health care staff to care for Manitobans."
The announcement also indicates the privatization of adult outpatient physiotherapy and hospital‑based occupational therapy clinic services, as well as the Grace Hospital retail food services. Meals currently made on-site at Middlechurch Home will in the future be provided by the Regional Distribution Facility.
The WRHA is also increasing various fees for various services.
"The WRHA and provincial government are decimating our health care system with reckless cuts, closures, and privatization," said Boissonneault. "This must be stopped."
The Canadian Union of Public Employees is Canada's largest union representing more than 643,000 members. In Manitoba, CUPE represents approximately 26,000 members working in health care facilities, personal care homes, school divisions, municipal services, social services, child care centres, public utilities, libraries and family emergency services.