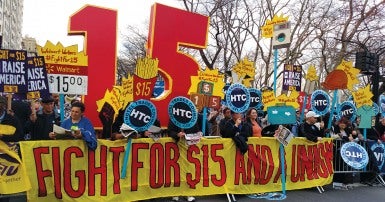 Workplace changes, announced by the Ontario government today, are a long way from rectifying the huge imbalance in our economy that continues to leave workers behind, says CUPE Ontario President Fred Hahn.
Thanks to the hard work of thousands of workers and advocates, the government has finally acknowledged that we have a serious problem in this province when it comes to workers' rights and compensation, Hahn told a meeting of his Executive Board that is preparing for the union's annual convention this week in Toronto.
"Today's commitment to increasing the minimum wage at the end of the year is a great first step – now we just need to keep up the pressure to get them to enact the many other substantive changes workers really need," Hahn said.
At first glance, today's announcement of increased vacation, card-based certification for three sectors, and equal wages for part-time workers seems truly substantive, but the reality is a bit more sobering.
Vacation increases only kick in after five years, but in the reality of today's job market, few people have the luxury of staying in the same job for that long. Similarly, the announcement of equal wages for part-time staff includes a merit-based exemption that employers can exploit to avoid having to pay a fair wage.
"The reality is, without access to a union, workers will still find themselves victims to employers who exploit the loopholes around most of today's announcements," said Hahn. "Today's announcement of restoring card-based certification for only a small segment of workers actually creates a two-tiered system where some workers have fair access to their constitutional rights while the majority still don't. This is just wrong."
Meaningful access to collective bargaining is a constitutional right in Canada, but since card- based union certification was eliminated by the Conservative government in the nineties, it has become more difficult for unions to organize and certify new groups of workers. Since then, we have witnessed a changing economy in which there are entire sectors of workers for whom the legal right to join a union remains no more than words on paper.
"This government keeps talking about needing to maintain balance between employers and employees," said Hahn. "But, the balance between workers and their employers has been out of whack for so long that today's announcement doesn't come close to restoring the balance needed to create an economy that works for everyone."