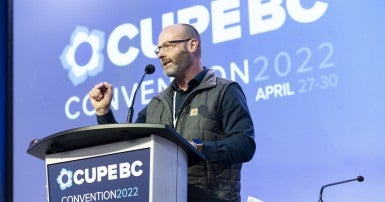 Celebrating the accomplishments of B.C.'s labour movement while keeping an eye on the fights still ahead was the uplifting message brought to the CUPE BC 2022 Convention by Laird Cronk, president of the B.C. Federation of Labour (BCFED).
"It's great to be with people again, to feel the energy again…. you're doing some great things here, and you're doing them together. It's a really great thing," said Cronk, a red-seal electrician member of the IBEW local 230, now in his second term leading the BCFED.
Cronk thanked CUPE members for their work during the pandemic. He also highlighted the many advancements CUPE BC and the other BCFED affiliated unions have helped win – including paid sick leave for all workers, and the return of card check. "This is your story. We all have the benefit of being in a union, we get to be part of the Federation. This is our story. We did this all together."
These wins are only a start, said Cronk, and they must be built upon with 'kitchen table' arguments that will resonate with B.C. workers. He said union members must also not let themselves be threatened by the newly minted leader of the BC Liberals.
"We need to remember what's at stake…. Let's not forget what the BC Liberals did. Kevin Falcon had his hands on the levers. He wants you to forget, but the BCFED won't," said Cronk.
"We have a lifetime of work to do together, but please see what we've accomplished together. And working together we can do so much more," concluded Cronk.