Our environmental work this year focused on the most urgent issue of our times – climate change. At home and on the international stage, CUPE worked to put words into action, advocating that environmental protection, economic development, and a fairer society go hand in hand.
In September, CUPE signed the Leap Manifesto, pledging our union's support for a clean economy. We also brought these issues to our convention, rallying with Indigenous, community and labour allies to call on Canada to take the leap, and featuring manifesto supporter Naomi Klein as a keynote speaker. The convention was CUPE's greenest ever, featuring environmental stewards and achieving carbon neutrality.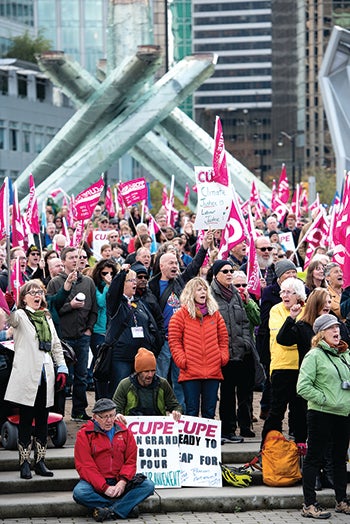 On the international scene, CUPE took part in the "No Jobs on a Dead Planet" summit organized by the International Trade Union Confederation before the COP21 global climate summit in Paris.
We will keep pushing for bolder steps that ensure a just and equitable future. 
At COP21, CUPE was part of a strong labour delegation calling for all countries to transition to a sustainable, low-carbon, just economy for all. At public events and meetings, CUPE emphasized that the public sector has a key role to play in fighting climate change and ensuring a just transition towards a greener economy. Labour's voice was also key to keeping human rights on the agenda in the negotiations. In the end, the preamble to the final agreement mentioned human rights.
A key COP21 moment was the "One Million Climate Jobs" forum organized jointly by the Canadian Labour Congress, Climate Action Network Canada, and the Green Economy Network. Representatives of unions, environmental groups and other civil society groups met to discuss Canada's participation at the conference, as well as ways to protect the environment while maintaining and creating good jobs.
The final Paris agreement is a starting point for the work ahead. For the first time, 195 national governments, plus the European Union, have committed to action to limit climate change. But the agreement falls short of what's needed. Cuts in greenhouse gas emissions need to intensify to slow the worst effects of a warming world. CUPE will keep pushing governments to take bolder steps to ensure a just and equitable future for working people and vulnerable communities.
As part of our ongoing work on these issues, CUPE launched a new interactive climate change outreach tool for members to discuss climate change, actions and solutions. CUPE is also working with our allies to expand the work of the Green Economy Network across Canada. The network advocates for public sector solutions to the environmental crisis.