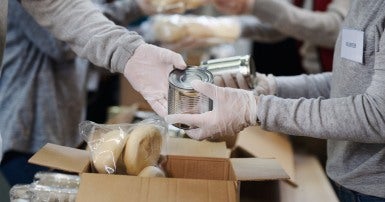 Emphasizing the needs of vulnerable community members in Whitby, Ontario, CUPE 53 has donated $2,000 to the Feed the Need program in Durham Region as food bank demand rises through the pandemic.
"Our union members have always believed that we should help the most marginalized members of our community," said Rob Radford, president. "We have a tradition of donating to food distribution networks, women's shelters and other similar programs."
But the union representing municipal workers in Whitby asserts that food insecurity is a function of poverty and lack of affordability, which can only be addressed through systemic reforms.
While noting that Feed the Need has distributed 60 per cent more food through the pandemic, Radford emphasized that about 14 per cent of Durham households (66,100 people) were food insecure prior to COVID-19 based on a 2019 government report.
"Charity is nice, but its benefits are limited. It's not a solution to systemic problems. When we examine food insecurity, it clearly relates to precarious work, inadequate social programs and rising housing costs among other things," Radford said.
According to the 2019 Durham Region government report, food insecurity most affects social assistance recipients, single parents with children under 25, post-secondary students, and Indigenous and racialized people.
Radford said that all levels of governments must tackle these challenges through major reforms including improving labour laws to prevent exploitation, expanding the social safety net and boosting investment in public services, building affordable housing, and increasing taxes on the wealthiest people.