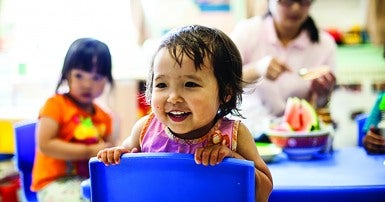 The Canadian Centre of Policy Alternatives has released a report that maps a complete list of licensed child care spaces in Canada. The report sets in contrast the number of children in a given postal code against the number of licensed spaces in that postal code.
The results are breathtaking. A number of "child care deserts" are identified as postal codes where there are at least three children in potential competition for each licensed space, which means that 44 per cent of non-school aged children in Canada live in child care deserts
The report reminds us that ensuring Canadian families have access to child care is vital for achieving a range of public goals, including closing the gender wage gap in the economy, spurring economic growth, easing the burden on struggling parents and supporting healthy child development. High child care fees are an obvious obstacle for cash-strapped parents, as the CCPA has documented in other reports. But a lack of local licensed spaces will also limit the choices parents have when it comes to raising their children and re-entering the workforce.
Do you live in a child care desert? Visit our interactive map to see how child care coverage measures up across Canada.