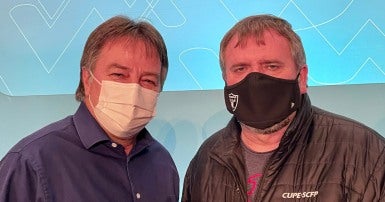 This week will be CUPE's 30th biennial national convention, but the first that we've ever held virtually. We'd hoped that we'd all be able to gather together in Vancouver this week, but – as we've all been doing throughout this pandemic – we're going to work together, figure out some new tools, and get the job done.
Together, over the coming week, we'll:
Debate policy resolutions from across the country;
Listen to inspiring speakers who can help shape our conversations;
Hear reports on the wide range of work our members, committees and leaders have done over the last two years;
Bring forward a strategy to break down barriers and create a stronger, more inclusive union for the struggles ahead; and
Establish a plan for our union for the next two years.
In virtual housekeeping, you should have received an email yesterday from canada@chime.live, which included a link to our virtual convention platform as well as your individual registration ID and password. You will use this ID and password to log in to the convention platform, as well as to log in to the LUMI secure voting platform.
If you haven't yet received your credentials and should have, please contact us immediately at credential-creance@cupe.ca. If you have received them, we encourage you to log on to the convention site before the convention begins, to make sure we can solve any problems in time for you to participate. If you have any questions, you can reach out to us at questions@cupe.ca .
On behalf of CUPE's 700,000 members from coast to coast to coast, thank you all for taking the time to participate this week, and for helping to shape the direction of our union.
In solidarity, 
MARK HANCOCK
National President
CHARLES FLEURY
National Secretary-Treasurer