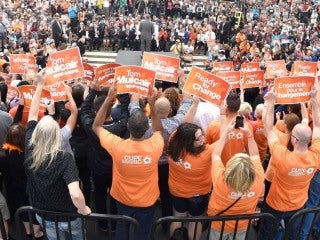 Tom Mulcair's Seniors Care announcement is a welcome change from the previous nine years of Conservative policy. 
After years of cuts to health care by the Harper government, Tom Mulcair and the NDP will invest $1.8 billion over four years to help provinces improve seniors care.
They've promised home care services to 41,000 more seniors. And the NDP will help provinces build 5,000 more nursing home beds, and establish a $30 million palliative care innovation fund.
Many CUPE members work on the front line with our seniors, from home care workers to nursing home staff. We understand the importance of having a federal government that works with the provinces to create new public long-term care beds and publically-provided home care services to seniors.
Tom Mulcair recognizes that caring for the present and future needs of an aging population requires both leadership and investment from the federal government.
We need a federal government that understands the health care needs of Canadians and is willing to cooperate with provinces and provide the funding necessary to make the expansion of our public health care system possible.