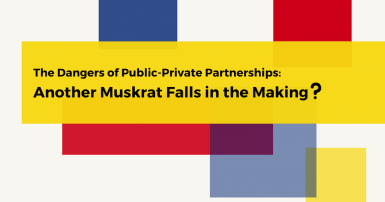 Join us via Zoom for a panel discussion about the new research report "Many Dangers of Public-Private Partnerships in Newfoundland and Labrador"!
We'll hear from the report's author Christine Saulnier, director of CCPA-NS, who will present the main findings and recommendations from the report. Speakers will also include Govind Rao, CUPE Atlantic Researcher, and Sherry Hillier, CUPE NL President.
Residents of our province need to make an informed decision about whether building so much important infrastructure as private-public partnerships (P3s) makes sense, or whether these projects will negatively affect the public services we all need access to and are a brewing storm that will wallop us in some years' time.
Tuesday, October 6, from 7 – 8:30 p.m. (NT)
Please register at https://zoom.us/webinar/register/WN_-VXG0txdQ8aWoLE9SSouLQ.
*After registering, you will receive a confirmation email with a link to join the webinar.