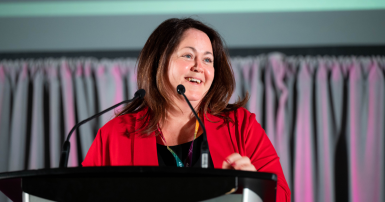 National Secretary-Treasurer Candace Rennick sent participants at the CUPE Women's Conference home with words of encouragement and support today. She pledged that CUPE will continue the fight for equity and gender justice and will work to turn discussions from the conference into concrete, funded, and resourced initiatives to make real and meaningful changes inside and outside the union.
More than 600 women and gender-diverse members from across the country attended the Vancouver conference. As they gathered for the final moments of the conference, participants heard from poets El Jones and Véronique Bachand, who expressed in verse all they saw and heard over the preceding three and a half days. The two performed a bilingual poem they created on-site, just for the conference.
Tahmineh Sadeghi, from Woman, Life, Freedom spoke about the ongoing protests in support of women's rights in Iran and thanked CUPE for its support. "You pay a very high cost to exercise your basic rights in Iran," Sadeghi said. "We must support this revolution, especially because this revolution is led by women."
As Rennick took the stage to deliver a farewell, she expressed how difficult it is to summarize the breadth and depth of the conference.
"It has been an incredible opportunity to share experiences, understand better what we have in common, but also to uncover our differences rather than pretend they don't exist. I believe we are ending this conference with a better understanding of where we are at, the challenges we have, and know more clearly how to move forward," she said.
"One thing I heard loud and clear is we cannot allow things to stay the same," she continued.
"The status quo is not working for women. That is especially true for Black women, for racialized women, for Indigenous women, for women with disabilities, for gender-diverse women, for all women who are marginalized. And they, my friends, are the majority of women in CUPE."
There is hard work ahead, Rennick warned. The struggle continues to lift women's wages, especially the wages of the lowest paid, and to build the Canada-wide child care program we need. Ongoing pressure is needed to push the federal government to implement and fund a real action program to eliminate gender violence, including an end to violence against Indigenous women and girls.
"I was incredibly inspired by this conference. The last few days have reminded me that it doesn't have to be a lonely struggle for women in the labour movement," Rennick continued. "The obstacles to making gains can seem insurmountable, even for the strongest among us. But being here with all of you inspires me. Your solidarity is real and reminds me none of us is alone. Together we can be so much more courageous, and so much more resilient."
Rennick concluded by issuing a challenge to the members assembled.
"When we leave here to take on bullies and bosses, toxic cultures, and conservative governments – let's make it real when we say: If you take on one of us, you're taking on every woman in CUPE! By staying united and working in solidarity with others, by being organized and coordinated and strategic, by being bold and brave and courageous—we can and we will win!"