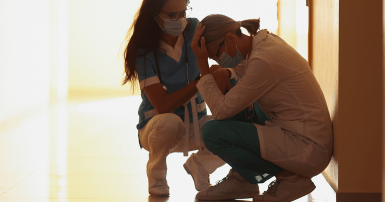 CHUS confirmed that a record 3000 members of its staff of 21,000 resigned in 2021. The numbers of those retiring remained steady at 300.
After the union went to the media with certain issues, the employer informed the media that a press conference would be held to announce its retention plan. The four unions representing the employees at the institution are still waiting an invitation to present their solutions.
However, once again, the CIUSSS de l'Estrie – CHUS does not seem to want to take any union proposals into account.
The Alliance du personnel professionnel et technique de la santé et des services sociaux (APTS) de l'Estrie has seen 1000 of its members leave in the past two years, a situation that could worsen given the off-putting measures taken by the CIUSSS de l'Estrie - CHUS, particularly its refusal to approve several leave days and its reduction of vacation quotas.
The Fédération interprofessionnelle de la santé du Québec (FIQ) will be short more than 800 professionals in the summer.  Despite this dire predicament, the number of overtime hours worked continues to climb and the options for vacation days are not too attractive, which has resulted in job dissatisfaction and increased departures of care personnel at the institution.
The Canadian Union of Public Employees (CUPE 4475), which represents more than 6,000 members, lost 1300 to resignations in 2021, close to 23 per cent of its membership.
Nonetheless, solutions to stem the massive flow of resignations do exist. These include, in particular, improvements in staffing tools and the creation of atypical schedules such as the 12-hour schedule and the implementation of structuring personnel attraction and retention measures.
Prospects for 2022 in terms of staff retention at the CIUSSS de l'Estrie – CHUS do not appear to be any better.