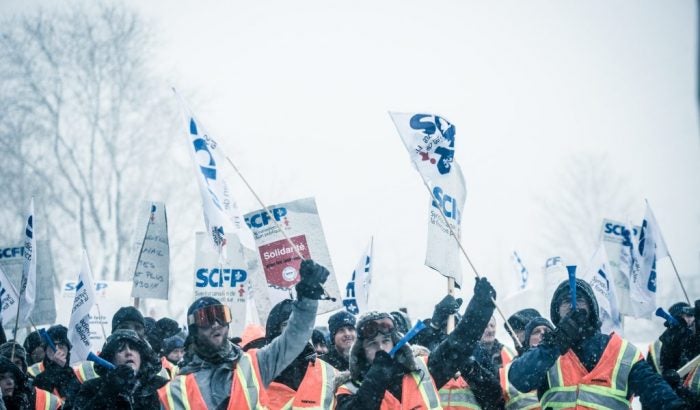 Pressure is building on Viterra, a grain distributor at the Montreal Port, which locked out 51 workers last January 30. This morning, workers from several different sectors came out and picketed in solidarity in front of Viterra's administrative offices at Cité-du-Havre.
"During negotiations, these operators (from CUPE 2751) were demanding the same working conditions as the vast majority of Montreal Port workers. They were seeking wage catch-up, better occupational health and safety provisions and an improvement of clauses on work-family balance," explained Jean-Pierre Proulx, CUPE union representative.
The union was hoping to come to an agreement, since it was among a group of three CUPE locals at the Montreal Port, which obtained a strike mandate in 2017 for similar reasons. In February, two of these locals – Montreal Gateway Terminals (MGT) and Termont – achieved settlements. Unfortunately, Viterra is a company that has a lockout history all over the country.
"We were hoping that the settlements reached with MGT and Termont would have some effect on Viterra. Some fifty men and women are out on the sidewalk at a time when a settlement is at hand," added Jean-Pierre Proulx.
With close to 116,000 members in Quebec, CUPE represents the Syndicat des débardeurs du Port de Montréal and longshoremen at the ports in Quebec City, Trois-Rivières, Sorel, Matane, along with longshoremen at Arrimage du Saint-Laurent (Baie-Comeau), for a total of 1,242 members.