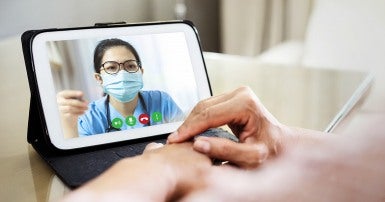 The Ministry of Health is conducting a review on the future of virtual health care in Saskatchewan, but CUPE 5430 is concerned that this may open the door to further privatization.
"There are many benefits to expanding the role of virtual health care, however, it is critical that the Government of Saskatchewan ensures that virtual care is fully integrated into our public health system," said Bashir Jalloh, president of CUPE Local 5430 and a nuclear medicine technologist.  "Given this government's track record we are concerned that this may open the door to further privatization."
There is a policy-vacuum as it relates to virtual care, and for-profit corporations have used the pandemic to establish a foothold in Canada's health care system.  In many cases, these corporations provide these virtual services through private health insurance providers and fee-for-service arrangements for those patients without plans.
CUPE points to Toronto-based Maple, one of the biggest players in virtual care, and operates a virtual health clinic in Saskatchewan.  Access is covered by private health insurance providers and fee-for-service.  Maple is also linked to Shoppers Drug Mart, which owns at least 20% of this corporation.
"The provision of virtual services by private companies like Maple is chipping away at the foundations of The Canada Health Act, which requires that medically necessary services provided by doctors be covered by provincial health insurance plans," added Jalloh.  "For-profit virtual care companies that charge patients for doctors' visits are essentially creating a two-tier health care system in Canada by allowing wealthier patients to pay for faster access to care."
In a report issued in December 2020, Ontario Auditor General Bonnie Lysack expressed a number of concerns about the proliferation of private virtual care that occurred with the onset of the pandemic.  These concerns included weak oversight by the health ministry of unreasonable virtual-care visits and billings, increased data security and patient privacy risks, and unequal access given many patients do not have the ability to pay.
"Virtual care is no substitute for in-person visits with a family doctor and other health care providers.  Many people, including seniors, low-income individuals and folks in communities with low internet bandwidth, have difficulty accessing virtual health appointments.  The Government of Saskatchewan needs to keep these inequities front of mind when determining the role virtual care will play in our health system."
CUPE also wants to ensure that any policies around virtual care ensures that privacy and the security of information are a top priority.
Virtual care is not a panacea.  It will not fix the recruitment and retention challenges that Saskatchewan's health care system is facing, nor will it resolve issues of crushing workloads that many health care providers experience every day. Virtual care is only one piece of the puzzle.  But the Government of Saskatchewan must use virtual care to strengthen our existing public health care system, instead of using this as another opportunity to further privatization," concluded Jalloh.