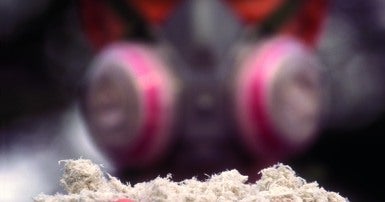 The federal government announced a ban on the manufacture, import, export and use of asbestos on December 15, 2016. This is a major victory for the labour movement and the CUPE health and safety activists who have been on the front line of the fight for decades.
 For years, CUPE sounded the alarm about the danger of asbestos in public buildings and the risks to the lives of the workers who build, maintain and work in them, even as government and industry were working hard to keep the asbestos mines in business.
 The announcement, made on Dec. 15, follows a private member's bill introduced by NDP Member of Parliament Sheri Benson in November. Benson's bill sought to amend the Canadian Environmental Protection Act to legislate a complete ban on asbestos and all products containing asbestos in Canada.
CUPE National President Mark Hancock welcomed the news.
"The ban announced by the federal government is a step in the right direction," said Hancock, "Now it's time for the federal government to work together with the provinces to harmonize regulations and to collaborate on health strategies for asbestos-related diseases."
Hancock noted that there was still more to be done to deal with the asbestos that has already been used in countless workplaces.
"We especially ask the Liberals to show leadership to protect workers who may be exposed to asbestos in workplaces across the country."
The federal government must work with local governments to address safety concerns, said CUPE National Secretary-Treasurer Charles Fleury.
"We encourage the federal government to work with municipalities on asbestos disposal to protect the thousands of CUPE members who work in landfills and other disposal related activities," Fleury said.
Five things the federal government should do to deal with asbestos in existing buildings:
Create a pan-Canadian, publicly available registry for all public buildings that contain asbestos
Create a federal registry for workers who have been exposed to asbestos
Work with provincial governments to develop a comprehensive health response to asbestos-related diseases, including early detection and effective treatment of asbestos diseases
Work with provincial governments to change compensation legislation to make it easier for workers diagnosed with asbestos-related diseases to receive the compensation they deserve, and
Add chrysotile asbestos to the list of hazardous products under the Rotterdam Convention, a multilateral treaty that promotes shared responsibilities in relation to importation of hazardous chemicals. We should ban asbestos in Canada – and everywhere else.