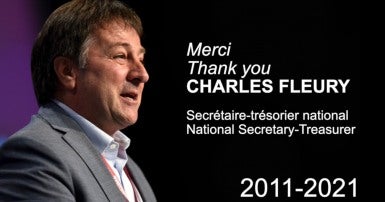 At convention today, a vibrant tribute was paid to Charles Fleury who is retiring after 10 years as National Secretary-Treasurer and 40 years of involvement in our union.
"Charles and I have been partners in the struggle since 2015," said CUPE National President Mark Hancock. "We worked together to renew CUPE's national bargaining policy to draw a hard line in the sand against concessions and two-tier bargaining. We have stood together to support our members on picket lines in every province. And we have been on quite a journey together over the past 20 months, as we led our union through the health and economic crisis of our lifetimes. "
"Leaders like Charles don't come along every day, and I will forever be grateful for his hard work and his friendship especially over the past six years." added Hancock.
Richard Perreault, former president of CUPE 1500 (Hydro Québec trade workers) and long-time accomplice, spoke about Charles Fleury's early years in our union.
"Charles excelled in every facet of union activism at CUPE 1500. Our members, and all of CUPE throughout Canada, have been lucky to count on Charles to relentlessly defend them," said Perreault.
Charles Fleury was elected CUPE 1500's provincial vice-president in the mid-1990s. Later he held the position of executive secretary for many years, after which he became increasingly engaged with CUPE-Quebec, and then with CUPE national.
"Charles, you are a great union activist, but also a hell of a nice guy. Thanks for everything, my friend," added Perreault.
As CUPE 79 treasurer and member of CUPE's Strike Fund Task Force, CLC Secretary-Treasurer Lily Chang had the chance to work closely with Charles Fleury during his mandate as National Secretary-Treasurer.
"I saw first-hand the efforts Charles put in to ensure our members money was well spent and invested to defend their interests. Financially responsible, he was always listening, building consensus, and finding solutions to respond to our member needs," said Chang.
"Charles, your steadiness, your integrity, and your ability to manage the books, clearly served CUPE well. We all wish you a long and happy retirement," added Chang.
A video recapping Charles Fleury's life and career was also shown during the virtual convention. 
Watch the video: