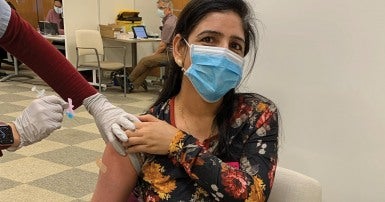 Stella Yeadon | CUPE Communications
There are two very telling photographs of Pam Hayer, a personal support worker at a Region of Peel public municipal long-term care home, rolling up her sleeve to get the COVID-19 vaccine. The second photo is the one she points to first. It shows Hayer helping the nurse with the needle, pinpointing the perfect spot on her arm. She's visibly smiling behind her mask, expressive eyes locked on the lens saying, 'there, look at me, I did it. You can too.'
The first photo, well that too is telling. Hands together, body stiff, Hayer's apprehension about getting the vaccine is evident in the way she sits, but mostly it's in her worried, downward-looking eyes.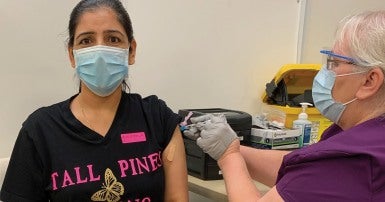 Hayer's journey, from a vaccine hesitant PSW to feeling amazing about her decision post-jab, is a common one among care home staff who, in the last few months, have increasingly rolled-up their sleeves to take the COVID-19 vaccine.
Across the country, there is a consensus that initially the vaccine uptake among long-term care staff could have been higher. Some provinces are doing better than others. Increasing vaccination rates hinges on the awareness about the efficacy, and education about the safety of the vaccine.
Hayer says that "yes, there is no denying that vaccine hesitancy is a thing among some staff I work with. I know that some of my co-workers may still not want to get the vaccine. But more and more are getting it. At first, I wasn't sure either…I delayed and then I said yes, I want it. Now I tell everyone that I got my vaccine so that they too might change their minds."
Describing her journey, Hayer says that what she did was tune out all the other noise about the vaccines and just looked at the science.
"I am feeling amazing about my decision. It made me feel safer and relieved that I will not be the reason any of the residents I care for will get infected with COVID-19. It offers relief after so many months of anxiety and worry that one of the residents I care so much about would get infected and suffer."
Before the photos were taken in January 2021, Hayer and her co-workers worked non-stop from the start of the pandemic in March 2020 keeping outbreaks, resident deaths and worker infections to a minimum. Then in the summer when cases were lower, she and other staff at the nursing home began to talk about the COVID-19 vaccines that they knew were coming in the new year. 
Some were hopeful the vaccines would be a big tool to end the spread of the virus while others were apprehensive and leery. With rampant vaccine misinformation online and on social media posts from anti-vaxers, to conspiracy theorists and pseudo-science bloggers gaining traction, Hayer decided it was time just to focus on serious studies. She quickly overcame her hesitation. On January 6, she received her first dose of Pfizer vaccine. The second dose came on January 27.
In Ontario and in B.C. in particular, vaccination rates went up when barriers to getting the vaccine were removed. More workers got the vaccine when clinics were set up directly in the care homes, and long-term care staff didn't have to travel to a hospital clinic on their day off.