Lisa Djevahirdjian | CUPE Communications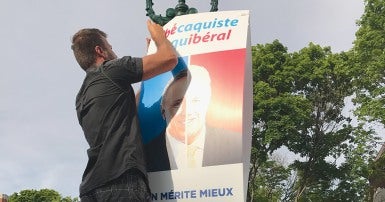 Taking advantage of the first fixed-date election in Quebec's history, CUPE-Quebec and a coalition of unions launched an unprecedented pre-election campaign that garnered public attention and provoked reflection just ahead of the official campaign period.
"We're proud of what we've accomplished in the last few weeks," said Denis Bolduc, president of CUPE-Quebec. "We ran a compelling and memorable campaign, and we're very satisfied with its reach. Fifty-one per cent of those surveyed in Quebec and 78 per cent in targeted ridings say they saw some facet of our campaign."
Polling firm CROP interviewed 2,034 people across Quebec, including 884 in targeted ridings, for a survey commissioned by the coalition. The message seems to have been well-received, as 43 per cent of those surveyed agreed with the campaign's sentiment.
Despite constraints imposed by several cities and towns, the coalition is pleased to have seen its campaign reach the four corners of Quebec and prompt reflection among many voters.
Given the high level of support among those surveyed by the polling firm, the coalition continued to push forward. It identified three key issues and continued to put pressure on all political parties throughout the campaign. Now, it continues to put pressure on the newly elected CAQ government.
"As far as we are concerned, protecting public services, a $15 minimum wage, and pharmacare are measures that would benefit all Quebeckers," finished Bolduc.
The campaign targeted 14 ridings in Quebec and encouraged citizens to select the most progressive candidate on the ballot.