CUPE 2669 is reeling from the Saskatoon Public Library's decision to lay off 20 staff members, just months after a hard fought campaign to restore provincial funding to the library.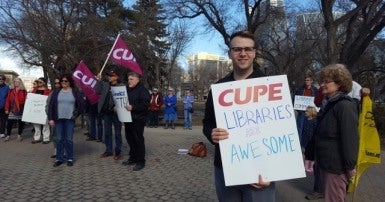 "This was a completely unexpected and very upsetting decision by the Saskatoon Public Library," said Lindsay Johnston, acting president of CUPE 2669 and a worker at the Saskatoon Public Library. "Though we felt like our jobs were safe when the funding was restored, we have become another casualty of the Sask Party's budget."
Although the provincial funding to public libraries was restored, that only accounted for three per cent of the Saskatoon Public Library's total budget. The Saskatoon Public Library receives 97 per cent of its budget from the City of Saskatoon, which had its budget slashed as well. There is also considerable uncertainty about what funding will look like in 2018 as the provincial government only said it would restore funding for this year.
The Saskatoon Public Library is conducting a service review that should to be completed in the fall. The local agreed to postpone bargaining until after the review is complete. As such, the local was surprised with the timing of the layoffs.
"The union was not consulted in any way about these layoffs, and we only heard about it an hour before it was announced to the first group of affected employees," added Johnston. "I think we all feared that jobs could be abolished after the service review was done, so the timing of this was shocking."
The union is working diligently to ensure that members know their rights and support them during this difficult time.
The local represents 76 full time workers, 174 part time workers including 98 pages, and 32 casual workers at nine branches. It is not clear yet which positions and programs will be affected by these layoffs.