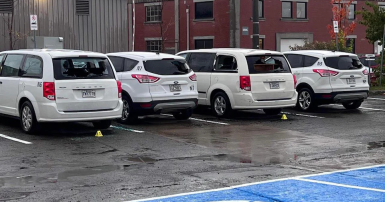 No fewer than seven TVA Québec vehicles were the targets of vandalism during the night of Monday-Tuesday. Windows of the cars were broken, and a case was opened with Quebec City police.
"From the start of the pandemic, workers have been the subject of stunning verbal and at times physical violence. Journalists, camera operators and technicians in the field complain regularly about the harassment they're exposed to.  It's got to stop," said Carl Beaudoin, the provincial president of the union representing TVA employees.
All TVA vehicles have been unmarked for more than a year.  Their logos were removed during the pandemic, because they were the target of too many threats.
Aside from the obvious questions concerning employee safety at the television station, we also have to wonder what impact this violence has on democracy.  
"It does not augur well for a democratic society when workers in newsrooms fear for their safety.  In fact, in most autocratic societies, the media is muzzled by fear," pointed out union representative Steve Bargone, who is also coordinator of the CUPE communications sector.