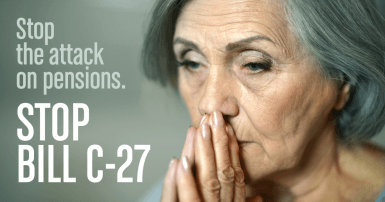 New legislation from the Trudeau Liberal government is threatening the pensions of Canadian workers. Bill C-27 is an attack on good defined benefit pensions that could allow employers to break their pension promises to thousands of workers and retirees across the country.
"CUPE is strongly opposed to Bill C-27, and we are urging the federal government to stop this short-sighted and ill-conceived attack on the retirement security of Canadian workers," said Mark Hancock, national president of CUPE.
Bill C-27 will allow federally-regulated employers to retroactively change a defined benefit pension promise into insecure "target benefits" by pressuring workers and retirees into surrendering benefit promises they have already earned.
"During the last election, Justin Trudeau clearly promised to protect good, fair defined benefit pensions from being retroactively changed to target benefit plans. Bill C-27 breaks that promise," said Hancock. "Prime Minister Trudeau must immediately withdraw this extremely irresponsible and mean-spirited legislation."
Converting defined benefit pensions to a target benefit model shifts virtually all risk onto workers and retirees. Bill C-27 could essentially allow employers to walk away from pension commitments to their workers, and leave thousands of Canadians abandoned in retirement.
While Bill C-27 only applies to federally regulated employers, CUPE warns that if it is passed into law it will set a dangerous precedent for other jurisdictions, and put more pressure on defined benefit pension plans.
Read CUPE's backgrounder on Bill C-27
Visit the Canadian Labour Congress website for more information on Bill C-27