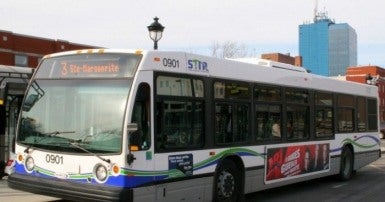 Concerned by the threat of significant layoffs, public transit workers in Trois-Rivières, Quebec, are calling on the employer to resume bargaining talks to reach an agreement quickly. The idea of laying off 23 "regular" bus drivers needs re-thinking in light of social distancing and health care measures, rider needs and the need to maintain a pool of backup drivers.
"Elsewhere in Quebec, transit companies have scaled back their layoff plans so they'll be ready for emergency transportation situations. We have to keep in mind that some of our "guardian angels" go to and from work on the bus and that transit is essential to people without cars or those with restricted mobility," explained Donald Simard, President of CUPE 4115.
"With COVID-19, the numbers of riders must be kept to a minimum, so that people can keep at least 2 metres apart, and to reduce surface contamination," added Simard.
The union has also warned against the cumulative effect of layoffs in the region, pointing out that the area needs income earners and economic activity to ensure a successful economic recovery in the future.
"We know we can come to a win-win agreement with the employer, as was done in Montreal and in Sherbrooke. We also want to take this opportunity to raise the issue of the protocol to be followed in the event that COVID-19 is detected in a driver or a passenger. We fear the transit company is not well enough equipped at this time. We are also concerned about school bus driver layoffs with respect to the date funding is to end," finished Simard.
CUPE 4115 represents about 98 bus drivers, 15 mechanics, and 13 office staff, for a total of 126 employees at Trois-Rivière public transit.