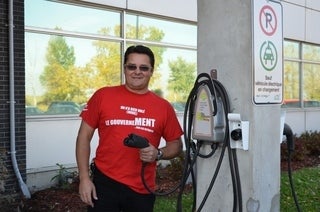 Last October 8, CUPE Local 301 inaugurated the installation of two electric vehicle charging stations. The union, through its Environment Committee, took advantage of the "Brancher au travail" subsidy program of the Quebec Department of Energy and Natural Resources (Ministère de l'Énergie) to achieve one of the principles of the energy policy declaration adopted at the 30th Convention of the FTQ.
According to some sources, it is believed to be first time a union in Quebec, or in the rest of Canada, for that matter, has offered a service of this type for its members and the environment.
CUPE Local 301 invites its affiliates and partners to do likewise!
Photo: Local president Michel Parent with the nozzle of a charging station
Newspaper article and Web site only
SCFP Québec, SCFP/CUPE, FTQ