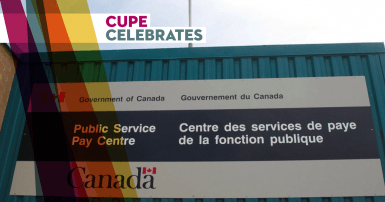 A recent injunction application filed by CUPE in Federal Court to prevent the transfer of more RCMP civilian employees to the flawed Phoenix pay system has achieved the desired result, even though it had yet to be heard by a judge. RCMP civilian employees, who want to join CUPE, will now be protected from the government's Phoenix fiasco.
The federal government just informed Canada's largest union that the transfer of the remaining RCMP civilian employees to Phoenix scheduled for April 26, 2018 is being put on hold "indefinitely". The blackout period scheduled to start on December 1, 2017 is also postponed, which means that the pay of employees who are promoted, reclassified or transferred will continue to be adjusted immediately in the current pay system, and will not be put at risk. An injunction application hearing scheduled to take place on Wednesday, November 29, will now be adjourned.
"CUPE's political and legal pressures clearly forced the government to completely change course. This is a sweeping victory for the RCMP telecommunications operators and intercept monitoring analysts who want to join our union," said CUPE's National President Mark Hancock. "It gives them a taste of what CUPE can do to protect the interests of its members. No employee in any part of the public service should ever have to see their livelihood jeopardized the way so many have under Phoenix."
"Since the problems with Phoenix won't be fixed anytime soon, according to the recent Auditor General report, the President of the Treasury Board now has to make sure that the indefinite hold will mean that not another RCMP civilian employee will be transferred to Phoenix. Nobody should be forced to live under the stress and uncertainty of wondering whether they will get a paycheck or not," added CUPE's National Secretary-Treasurer Charles Fleury.
CUPE has filed applications for certification of RCMP telecommunications operators and intercept monitoring analysts with the Federal Public Service Labour Relations and Employment Board (FPSLREB).