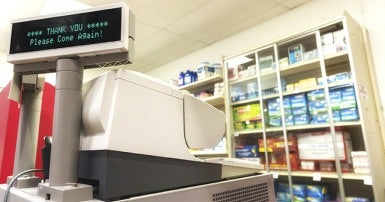 As Canada prepares to sign the Trans-Pacific Partnership, a Canadian Centre for Policy Alternatives (CPPA) report confirms the massive deal will severely weaken our public health care system.
The far-reaching TPP covers 12 countries that represent 40 per cent of global trade (Canada, Chile, Mexico, Peru, the United States, Japan, New Zealand, Australia, Brunei, Singapore, Vietnam and Malaysia). The deal will likely be signed on February 4, while ratification could take up to two years.
Combined with reports the TPP will cost Canada 58,000 jobs, it's another reason Canada should not be signing or ratifying the deal.
 The CCPA report finds the TPP will:
make it more difficult and expensive for Canadian governments to establish new public health programs, including pharmacare,

undermine health regulation, and

obstruct efforts to renew and expand public health care in the face of new challenges.
US-style patent protections will mean higher drug costs
By caving to US corporate demands for longer pharmaceutical patent protections, Canada has negotiated a deal that will see prescription drug costs increase by $636 million annually once the TPP comes into force. This will be an added financial burden for public health care, employer benefit programs and other private insurers, as well as individuals. If the Canadian health care system has to shoulder increased drug costs, they may have to cut health care services and jobs.
The TPP's impact on drug costs will be felt most acutely in developing countries, as longer patents block the entry of lower-priced generic drugs. This limits access to life-saving medicines. The international humanitarian medical organization Médecins Sans Frontières has highlighted how competition between generic drug makers dramatically drove down the costs of HIV medications, helping expand treatment to six million people in the developing world.
Foreign investor protections that promote privatization
The TPP gives foreign investors the right to sue governments if they feel a policy decision limits their profits. This system, called investor-state dispute settlement (ISDS), bypasses Canadian courts in favour of secretive, pro-investor tribunals that award enormous sums of money at a government's expense. A recent example is Eli Lilly's $500-million NAFTA claim against Canada.
These investor rights rules cost Canadian taxpayers hundreds of millions of dollars. They also lock in privatization and deregulation. For example, when private insurers already provide coverage for prescription drugs, like in Canada, an ISDS claim would make it very expensive if the government to decide to bring this coverage into the public system.
The TPP's ISDS rules would make it next to impossible to create a public national prescription drug program. It would also make it prohibitively expensive to bring health care support services like laundry, IT or food services back into the public domain, even if the private contract has failed.
Attacking Canada's pride
Canadians are proud of their health care system. Trade deals like the TPP, CETA and the Trade in Services Agreement are dangerous to our public health care. As the CCPA report concludes, the TPP is the worst of all worlds. It incorporates problems from previous trade agreements, and introduces new threats to Medicare.