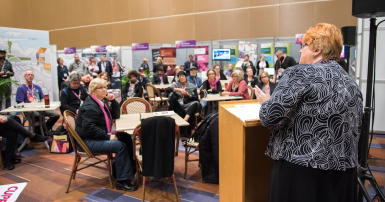 "Trade unions in the UK are in the fight of our lives," said Wendy Nichols, President of UNISON, UK. "The Tory government of David Cameron with its majority in the House of Commons has gone on the attack on working people, slashing public services to the bone, and with the Trade Union Bill attacking the trade union movement," said Nichols.
The bill is a new set of laws that will severely restrict working people's ability to organize their own rights and campaign for a more progressive society. It could be law as early as February 2016 in England, Scotland and Wales.
"The bill is not just an attack on trade unionists, it is an attack on working people – whether they are in a union or not," said Nichols, speaking to CUPE delegates at their National Convention.
The bill as proposed will shift power even further in Britain's workplaces even towards the employer. It will undermine the union's ability to bargain, negotiate and represent their members. "As one member told us, the right to challenge and the right to protest is the right to be heard and listened to. This is exactly what the Trade Union Bill aims to do – silence workers," said Nichols.