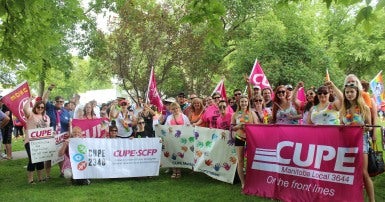 ​CUPE members from across Manitoba came together to march in solidarity in Steinbach Manitoba's first annual Pride parade and celebration, Saturday July 9th.
While organizers originally expected roughly 200 participants, Manitobans gathered in numbers estimated between 3,000 and 5,000 to march, cheer, and support the Steinbach LGBTTI community.
"CUPE is proud to have participated in such an historic event," said Kelly Moist, President of CUPE Manitoba. "CUPE members from across the province came out in support of the community in Steinbach, and it was an emotional and powerful day for us all".
Steinbach Manitoba is often portrayed as part of the "Manitoba Bible Belt", and is considered by many to be a very conservative community. Many local politicians refused to attend or acknowledge Steinbach Pride in the lead-up to the event, with Conservative Member of Parliament Ted Falk indicating his contempt for the event, and Conservative MLA Kevin Goertzen and Mayor Chris Goertzen not in attendance.
There has also been heated debate within the Hanover School Division over allowing students to organize "Gay Straight Alliances", anti-bullying initiatives, as well as a policy that prohibits teachers from discussing sexual orientation or gender identity in classrooms.
Despite these challenges, Steinbach has proven itself to be a strong and welcoming community, with countless residents cheering the parade as it marched by. It was noted that not a single "counter-protest" took place, and the event was a positive, exciting, and empowering experience for everyone.
"Steinbach is at the forefront of this critical fight for human rights," said Moist. "Hundreds of CUPE members work in Steinbach and area, and we stand with the entire community to ensure safe and inclusive workplaces for everyone".