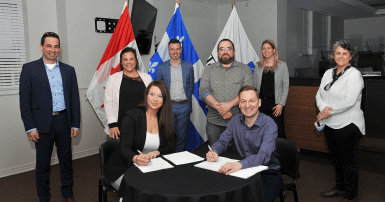 CUPE 2326, the union representing employees of the Terrebonne municipal pool, happy to announce that it has signed a new collective agreement with the city. The last contract expired on December 31, 2018.
Wages and working conditions of approximately sixty lifeguards, monitors, supervisors and cashiers were key issues in negotiations. In light of the gains made, the union can finally say mission accomplie!
With this agreement, all personnel will now be covered by the city's inside worker pension plan. Moreover, full-time employees will have a bank of sick leave, floating holidays and increased compensation for statutory holidays. Union members will also maintain their insurance coverage and share in its cost like all other permanent employees.
The five-year contract, which runs from January 1, 2019 to December 2023, calls for wage increases of 2 per cent for 2019 and 2020, 1.5 per cent for 2021 and 2022 and a guaranteed minimum of 2 per cent for 2023, all of which is pegged to the Consumer Price Index (CPI) to a maximum of 3 per cent.
Furthermore, wage catch-up of close to 33 per cent was negotiated for cashiers, and in 2022, a wage scale that will see all workers receive their compensation boosted by 5 per cent when they change salary steps will be introduced.
Several other improvements were made to the agreement, including the creation of a full-time reception and aquatic activities attendant position. Compensation for class preparation time and the list of employer-provided clothing were improved.
Relations were tense at times during talks. The Ministry of Labour appointed a mediator in 2021, but little progress was made, and the situation got to the point that employees voted in April 2021 to resort to pressure tactics up to and including strike action.
Following 18 bargaining sessions, a tentative agreement was reached on December 17, 2021, which received 93 per cent support at a general meeting on February 27, 2022.
"We're proud of the work that was done and the strategies that the bargaining committee adopted, which produced this agreement. Members in the aquatic sector mobilized, and we can say that the result is quite satisfactory for them," declared Stéphanie Bouchard, president of the union representing inside workers in Terrebonne.
"I salute the determination and solidarity of pool employees. We managed to improve working conditions. At a time of labour shortages and pandemic-related health regulations that either forced the pool to close or limited the number of swimmers allowed into the aquatic complex, this also comes as good news to the citizens of Terrebonne," said CUPE union representative Maxime Valade.