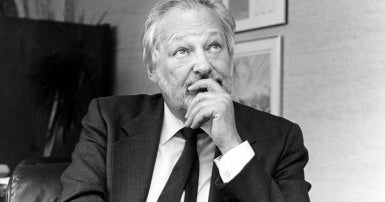 We were deeply saddened to learn of the passing of Fernand Daoust, a great union leader who dedicated his life to making Quebec a modern, more just and more democratic society; and for turning the FTQ into the large labour federation that it has become today. He was 93.
"I wish to thank you Fernand on behalf of the hundreds of thousands of organized Quebeckers, who enjoy better working conditions, a better social safety net and greater protection of the French language. Fernand Daoust was also the Director of CUPE-Quebec in 1968 and 1969. Every day, we are proud to continue on with the work he started, and we draw inspiration from the huge legacy he leaves behind," declared Benoit Bouchard, interim president of CUPE-Quebec.
"We offer our sincere condolences to his entire family, his children Josée and Isabelle, and his friends. The large FTQ family is in mourning today," added Benoit Bouchard.
An exceptional career path
Fernand Daoust held the offices of general secretary of the FTQ from 1969 to 1991 and president from 1991 to 1993. Born of a single-parent family in a working-class borough and raised by his mother, who worked in a sewing shop, young Fernand was a talented student, who worked hard to pay for his education with earnings from doing odd jobs such as a restaurant delivery person, monitor and warehouse clerk. He studied economics and industrial relations before joining the union movement in the 1950s. He participated in the founding of the Fédération des travailleurs du Québec (FTQ), which resulted from the amalgamation of the Fédération provinciale du travail du Québec (FPTQ) and the Fédération des unions industrielles du Québec (FUIQ) in 1957 in Quebec City. He made his mark in the FTQ starting in 1960 as chair of the education and organization committee; and in 1964 as vice-president of the FTQ. He also became the first general secretary of the FTQ solidarity fund in 1983, and was president of the Fund from 1993 to 1996. Also in 1993, he negotiated and obtained political autonomy and special status for the FTQ from the Canadian Labour Congress (CLC), including exclusivity of union interventions in Quebec and its right to international representation, an agreement that was described as sovereignty-association at the time.
The late 1960s and the early 1970s were also marked by the St. Leonard language crisis, demonstrations to have a French-language McGill University and by passage of Bill 63, which gave parents the right to choose the language of education for their children. In reaction to Fernand Daoust and due to the influence he exerted, the 11th Convention of the FTQ adopted the first linguistic policy in its history in 1969.
Fernand Daoust also sat on the first board of directors of the Office de la langue française in 1977 and received numerous honours, including the Ordre des francophones d'Amérique (1994), Patriote de l'année (1998) and Chevalier de l'Ordre national du Québec (2001).
Louis Laberge, president of the FTQ from 1964 to 1991, and Fernand Daoust, who worked in tandem for more than 20 years, literally built the FTQ into what it is today, making it an uncontested social and political actor of Quebec society.
Once again, on behalf of the members of the Executive Office of the FTQ, its affiliates, former presidents Clément Godbout, Henri Massé and Michel Arsenault, former secretaries general René Roy and Serge Cadieux, FTQ employees and retirees, and the large union family, we wish to offer our sincerest condolences to his family and friends.
Details on funeral arrangements will be made public via press release later in the week.