Kelti Cameron | CUPE Staff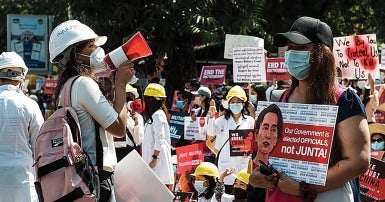 The violent military overthrow of Burma's elected government in February 2021 put many people in immediate danger, including leaders and members of CUPE's partner in the region, the Tavoyan Women's Union (TWU).
For months after the military seized power in Burma, also known as Myanmar, our union lost contact with TWU. Phone lines and internet were disconnected, and the country was in chaos.
Inspiring protest actions and resistance movements immediately emerged, along with a violent crackdown on peaceful protesters.
Nearly a year after the coup, CUPE finally connected with TWU Secretary General NuNu Hlaing, who is temporarily outside of Burma for her safety. The situation in her home country remains extremely dangerous, with the military targeting anyone who opposes the coup.
"The military forces try to oppress by arresting or killing. Even now they were firing every day in the city. People in the city or even in villages couldn't sleep without the noise of exploding bombs and firing guns," said Hlaing over Zoom.
Yet, NuNu Hlaing still hopes to go back to a democratic and equitable country someday.
Empowering women in Burma
Before the 2021 coup, women were underrepresented at all levels of government in Burma and had little presence in the peace process.
TWU is dedicated to advancing women's rights in the Tanintharyi region in Southern Burma. Their mission is to build a peaceful, just, equal, and liberated society.
NuNu Hlaing joined TWU in 2007 when she was 15. At the time, the union was based in Thailand because the country was also under military rule.
"I didn't know what human rights was about, I was not familiar with any kind of rights-based issues or even politicians," she said, describing herself as a simple and innocent young girl who had dropped out of school and left her country.
Joining TWU's women's political empowerment program changed NuNu Hlaing's life.
She grew into a seasoned activist working with migrant workers at the Thai-Burma border, and with women experiencing gender-based violence. She took many risks in the service of women in precarious and vulnerable situations.
Until the coup, TWU was based in the city of Dawei, which is geographically isolated from the rest of Burma. Low economic development has left the region with high levels of poverty, and Tavoyan girls are particularly vulnerable to trafficking and forced prostitution.
After successful elections replaced the military dictatorship in 2015, TWU left Thailand and returned to Burma, optimistic that their work empowering women could be public and could expand into political action. Yet, conditions were difficult even before the current political crisis, due to Burma's economic crisis and the impact of COVID-19 before the coup.
Coup sparks mass resistance
On February 1, 2021, the military once again seized power in Burma, overturning the successful election of the National League for Democracy (NLD) three months earlier.
CUPE and other TWU allies feared the military would immediately target the union because of their focus on peace and reconciliation, and their promotion of political rights for marginalized communities. However, in the first few days, the military targeted government officials and NLD members. "We were quite lucky on that day, with all the military around, that we were not in their target group yet", said NuNu Hlaing.
She and other TWU members had a few days to protect vital information and prepare to close their office. But when communities in the region began to mobilize and join a national strike on February 6, 2021, they couldn't continue their work at the office or in the public eye.
The national strike was quickly dubbed the Civil Disobedience Movement, and garnered global attention. People protested in peaceful and nonviolent ways, including labour strikes, public demonstrations, civil disobedience, boycotts, a pot-banging movement, and a red ribbon campaign in solidarity with the NLD.
Violent crackdown continues
Remarkably, the Burmese people have sustained their resistance to the coup for 11 months, as of the time of writing. Activists and civil society organizations found creative and courageous ways to avoid the violent and traumatizing military crackdown.
People resisting the coup formed working groups to prevent organizations being identified by their formal names. Communities and villages operated under collective leadership so individual leaders could not be targeted. Activists moved around frequently, changing where they slept every few days.
The military set up checkpoints and surveillance inside and outside communities and detained thousands of political prisoners in brutal and overcrowded conditions. Many of them are young people from poor communities. Torture in prison is widespread, and to date, over 1480 people have been killed.
As a young woman who has spent more than half her life trying to improve the lives of her people, particularly women, NuNu Hlaing said she is "very sad that Burma is a country with a lot of conflict."
At the same time, she said she is very proud of her people for fighting for their political rights, even though most are very poor.
She sees the groundswell of young people persistently resisting the coup as a hopeful sign: "I believe the people really want their freedom… and so there will be one point, someday, when we can achieve it."
Hlaing said the decision to temporarily leave her country again was not easy, and she sometimes feels guilty about it. But the truth is, "the activists are struggling quite a lot with their survival. I know that even for me, I got stress… not stress, I think almost trauma," she said.
The Burmese people continue to practise civil disobedience in many creative ways. The ongoing support and solidarity of the international community, including CUPE, is vital.
Hlaing is not sure what TWU's future looks like but she is clear that their important leadership and education programs need to continue. In the face of so much uncertainty ahead, she is confident TWU will continue to work and organize with women in the long term.
"I believe we will win," says NuNu Hlaing.
With thanks to CUPE 2440 member Charlene Armstrong, a member of CUPE's National Global Justice Committee and Cuso International worker, for facilitating CUPE's interview with NuNu Hlaing.
---
The Tavoyan Women's Union
The Tavoyan Women's Union (TWU) is CUPE's partner in Burma. TWU is based in the Tanitharyi region in the south. Their work focuses on breaking down the political, social and economic barriers that women confront in a patriarchal society.
TWU's goal is to build "a society of peace, justice, freedom and equality in Burma". TWU supports women becoming political leaders in their communities and building networks with women from different areas.
Their work to promote women's rights in society aims to increase the participation of women who are trained to fight gender-based violence and discrimination, and advocate for gender equality.
CUPE supports the organizing and education initiatives of TWU through a Global Justice Fund partnership with CUPE 2440, representing workers at CUSO International.