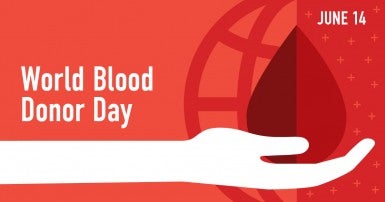 June 14 is World Blood Donor Day. For countries around the world, it is a time to raise awareness of blood safety and recognize the precious, life‑saving contributions of voluntary, unpaid blood donors. For CUPE, which represents over 450 members working for Canadian Blood Services throughout Canada, it is also a time to act, as Canada's national blood system faces some of the most serious challenges since the 1990s.
It is recognized worldwide, and by the World Health Organization (WHO), that the safest blood with the lowest risk of bloodborne infections comes from regular, unpaid donors. The WHO recommends that all countries achieve self‑sufficiency in blood supply by collecting 100 per cent of blood products from volunteer donors.
Right now, the Canadian Blood Services (our national not‑for‑profit blood authority) collects 100 per cent of blood from unpaid donors in Canada for blood transfusions, but only 17 per cent of the amount needed for plasma products in high demand. Canadian Blood Services plans to expand Canada's plasma sufficiency to 50 per cent by 2024. But that plan, and the safety and supply of our blood, is now being threatened by a disturbing new development.
Our government has allowed a private, for-profit company called Canadian Plasma Resources (CPR) to open its doors and pay people for their plasma. Not only does this jeopardize the safety of Canadian blood products, it also takes away from the voluntary donor base on which our national public blood system relies and threatens our plasma supply, as clinics like CPR seek to sell Canadian plasma to other countries for profit.
We need to ban payment for plasma by implementing a Voluntary Blood Donations Act in every province and call on the federal government to stop issuing licenses to Canadian Plasma Resources across the country. Currently, only Alberta, Ontario, and Quebec have banned payment for plasma, and CPR is either already operating or in the process of setting up clinics in British Columbia, Saskatchewan, and New Brunswick.
Let's take action to safeguard our national blood supply. Here's how:
Sign up with Canadian Blood Services to give blood or plasma.
Join the Canadian Health Coalition's campaign to keep blood donations voluntary.
Share this webpage on Facebook or other social media.