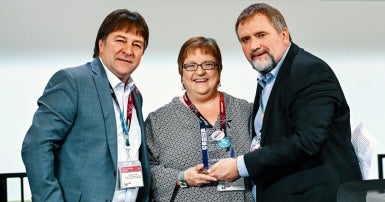 Susan Kearsey of CUPE 1615 at Memorial University is this year's recipient of the Disability Rights Activism Award. In a deeply moving and personal speech to accept the honour on Thursday morning, Kearsey spoke openly about her own struggles with mental illness, anxiety and depression.
"At first, I did what most people do and denied the symptoms," she told delegates. "After months of trying to deal with it myself I was finally honest with the fact that needed professional help."
Through her own struggles, Kearsey said, she saw the union as a vehicle that could advocate for disability rights in the workplace. After joining the CUPE National Persons with Disabilities Committee in 2014, she encouraged workers to talk openly about their struggles, and check in with coworkers who may be struggling with mental illness in silence.
Kearsey concluded with a message to all CUPE members. "The more knowledge and understanding gained," she said, "will make us stronger in our battle with management to give us the dignity, respect and accommodation all members deserve in the workplace."