When it comes to the layoffs of 38 hospital laundry workers, a poll to be released Friday (February 17) at 11 a.m., shows that Sudbury's hospital and the area MPP are outliers and not in sync with the overwhelming number of people in the Sudbury community who want the jobs saved, and the layoffs rescinded.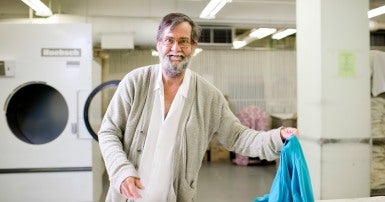 A media conference releasing the polling results will be held at 885 Regent Street, 3rd Floor at the office of Canadian Union of Public Employees (CUPE) 1623.
Conducted in early winter, not long after Health Sciences North (HSN) announced it is ending its contract with the local hospital laundry and will truck hospital linen to and from Hamilton, an over 800 km round trip, the poll had an unusually high participation rate. Nearly 19 per cent of those called chose to participate. Most polls have a participation rate of between 10 and 15 per cent.
The poll includes direct questions about the obligations of large employers and the MPP, to our community, says Sharon Richer secretary-treasurer of CUPE's Ontario Council of Hospital Unions (OCHU) who is attending Friday's media conference. "Poll results are pretty compelling. Our community does not support the hospital's choice to kill local jobs."
Respondents were also asked whether they support the decision by Health Sciences North to sever its long-standing (since the 1970s) contract with Sudbury Hospital Services (SHS) and use a hospital laundry service near Hamilton.
"SHS is well-known in our community and many know that the regional hospital is an owner of the facility. The hospital's decision to take its business south and eliminate local jobs is under scrutiny and, it appears is extremely unpopular," says Gisele Dawson president of Canadian Union of Public Employees (CUPE) 2841 which represents the hospital laundry staff.
Over 6000 Sudburians have signed a petition demanding that HSN continue to use the local hospital laundry. There are also 1600 people on a social media group in support of the laundry workers. "There's a lot of people paying attention to what the hospital and MPP are doing about our situation," says Dawson.
Last week the laundry workers learned that layoffs are being moved up to mid-March from the end of the month as originally planned. "It's extremely callous. Both the hospital and our MPP have had ample time to do the right thing and find a way to rescind these layoffs. Instead they are hastening the job loss," says Richer.