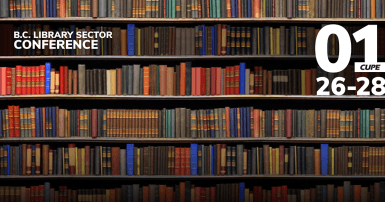 CUPE BC President Karen Ranalletta welcomed participants to the B.C. library sector bargaining training and conference held January 26 – 28 via Zoom. Ranalletta said that the pandemic has highlighted the importance of the work public library workers do in communities. "Having a public library open in a community helps it thrive, not just survive." She said that access to truth, science and information is now needed more than ever.
Ranalletta said that CUPE BC continues to push government for additional funding for libraries and continues to work with the BC Libraries Association and their new executive director – a former CUPE member who is a committed activist for accessibility issues. CUPE BC is also proud to continue to sponsor the Summer Reading Club, the province's largest literacy program. She welcomed new members from the Prince George Public Library who recently voted to join CUPE.
Thanking participants, Ranalletta told them that the work that they do for their union is equally important as the work they do in libraries. "Giving your time to work together on behalf of all of your members is awesome," said Ranalletta. "It's a show of solidarity and if people didn't step up to participate, unions wouldn't function. Solidarity – standing up for one another — is the reason unions work."
Over the course of three days, more than two dozen participants from across B.C. attended workshops including Preparing for Bargaining, Mobilizing Members for Bargaining, Strategic Planning for Bargaining, Communications throughout Bargaining, and Notetaking for Bargaining.
"The Library bargaining conference was well received and members walked away with added skills and knowledge in preparation for their upcoming bargaining," said Library Coordinator Tracey Mathieson.
Participant Beth Dimond, a Library Assistant in Children's Services at Prince Rupert Public Library, said that the conference was really well done and increased her comfort level for bargaining. Dimond, a member of CUPE 105-01, felt empowered by the conference and appreciated the printed material that she can share with others. "It's always great to connect and reconnect with others in the same field," said Dimond. "Coming from a small community library, it's good to get a heads-up about what's happening in larger libraries."