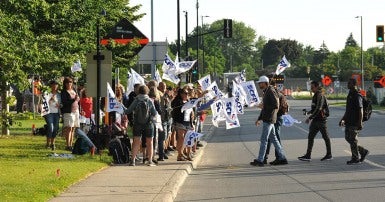 Several hundred striking croupiers with the Casino de Montréal demonstrated early this Wednesday around Loto-Québec's head office in Montreal to demand a fair collective agreement. After setting up strike pickets at the Casino for several weeks and demonstrating in front of Loto-Québec's head office last June 8, they targeted the SAQ complex in east-end Montreal to get out their message on the costs of the labour conflict.
"By demonstrating today, we are calling out the Government of Quebec on how it manages Crown Corporations. During our conflict with Loto-Québec, the employer has already lost in profit what a new four-year collective agreement would have produced in additional costs. It's as if the employer doesn't care about losing money and that the managers of the Société des casinos and Loto-Québec believe that sacrificing that amount of taxpayer dollars wasn't a big deal," explained CUPE union representative Jean-Pierre Proulx.
"Take SAQ for example. Their warehouse employees went on a three-day strike just before the last Christmas holiday season. They gained more than what we're demanding, because SAQ figured out that being stubborn and losing substantial revenues in the process just didn't add up.  We're convinced that private-sector casino managers would have reached an agreement with us some time ago. In short, we think the government should question its approach on this issue," said Proulx.
The contract of the 545 croupiers expired on March 31, 2020 and a strike was called on May 21, 2022. The main stumbling block is occupational health and safety. The union is demanding that allowance be maintained for adequate recovery time, which prompted the strikers' theme "Misez sur notre santé" (Bet on our health! Some 55% of Casino de Montréal croupiers have sustained a musculoskeletal disorder since the start of their careers, particularly tendinitis.