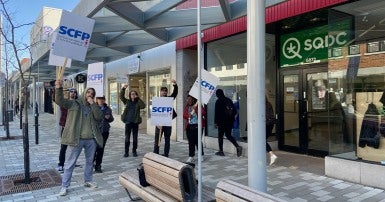 300 CUPE members employed by the Société québécoise du cannabis (SQDC) have called a strike, which began on Friday.
The work stoppage was prompted by the suspensions of the union president, the vice-president and 75 employees for their pressure tactic of wearing dresses and Bermuda shorts rather than the required black pants and shirt.
The union proposed a truce that would put an end to these pressure tactics, but the SQDC decided to pass up the opportunity and opt instead for confrontation.
CUPE members employed by the SQDC are demanding decent working conditions whereas the latter is refusing to pay them salaries and benefits similar to those paid by other comparable Crown corporations, namely the Société des alcools du Québec (SAQ).
SQDC workers earn barely $17 an hour when they are hired, and most of them have neither a full-time job, nor job security, which places them in an untenably precarious position.
Back in February 2022, members voted 91% in favour of a mandate calling for pressure tactics up to and including an unlimited general strike when the timing was deemed right.