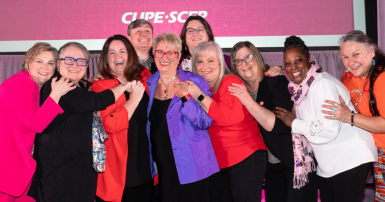 As almost 600 CUPE members gather in Vancouver this week for the CUPE Women's Conference, National Secretary-Treasurer Candace Rennick urged them to use their time to build connections with each other to strengthen solidarity in our union.
"Today, we need strength and solidarity more than ever, because we are at risk of major setbacks," Rennick said, in her opening speech, Sunday night. "Misogyny, racism, violence, and hate are on the rise. Most governments in Canada are Conservative or worse, and the leaders of the right-wing parties are shifting Canadian politics further and further to the right."
Despite these threats, CUPE's history demonstrates that when the union organizes, mobilizes and puts up a strong fight, gains can be made. Even in the hardship of the pandemic, Rennick pointed out, CUPE has had major wins. Federally, workers won ten days of paid sick leave as a minimum standard, and paid domestic violence leave for almost all works across the country. The federal government finally made universal child care a priority backed up by a $30 billion funding commitment over five years and an ongoing commitment of a minimum of $9.2 billion a year after 2025-26.
"These gains and all the others too many to recount were won by persistent struggle led by women, with CUPE women playing leadership roles," Rennick continued.
Rennick applauded the courage of thousands of CUPE women in Quebec who are part of the Common Front of public sector unions in health and education, members in New Brunswick who mounted a general strike against the provincial government, and Ontario school board workers who walked off the job despite threats of huge fines and discipline when Doug Ford tried to legislate away their collective bargaining rights.
"That's what the power of our union looks like," Rennick concluded. "That's what it looks like when CUPE women unite. That's the change and the momentum that women CUPE leaders can bring about when we embrace membership engagement, when we work collectively as part of a leadership team."
National President Mark Hancock, addressed the gathering in a video greeting. "This is an important time for women," he said. "Coming out of the pandemic, we need to make sure that employers and governments recognize the great sacrifices our members made, by showing us some respect at the bargaining table, and when the time comes to draft their budgets."
It's also an important time for CUPE, Hancock concluded, pointing out that the conference grew out of resolutions at the last convention to create safer union spaces for all. "I want to pledge to you today my ongoing commitment to making our union a place where women can thrive, where women and all equality-seeking members feel safe, and valued, and where their voices are heard."
Seizing the moment:
The first panel of the conference discussed the political landscape for women workers. CUPE's managing director of National Services Sylvia Soufi interviewed Bilan Arte, national representative for Women's and Human Rights at the Canadian Labour Congress, Leah Gazan, MP for Winnipeg-Centre and federal NDP Critic for Women and Gender Equality, economist Armine Yalnizyan and Emilie Nicolas, columnist and activist.
Panelists urged women to seize the moment to ramp up the fight for fair wages and to stop violence against women, starting with the implementation of the International Labour Organization's Convention against violence and harassment in the world of work. "We need to see the convention become reality," said Bilan Arte
For Leah Gazan, one of the most violent human rights violations is to keep people poor. "There is no reason to keep people poor. If we want to deal with violence, we need to deal with poverty," said Gazan. Gazan promised to keep fighting for a fair labour strategy for care workers, including in the "dude's den" that is the House of Commons.
Yalnizyan explained that inflation is a tax on the poorest, and it's the job of progressives to lift everyone up. "The feminist fight is equality for all women. We need the paid care economy to support the non paid care economy," she insisted.
Emilie Nicolas encouraged women to organize and campaign in original ways to increase women's presence in the public sphere and to take control of the political agenda, in spite of the risks of backlash.
"There are people coming at us and they are getting more organized, including through political parties, trying to get our power back. One of the ways they are trying to take their power back is online hate", said Nicolas. She added that we need to work hard to make sure feminism doesn't become a taboo like it was in the 1990s.