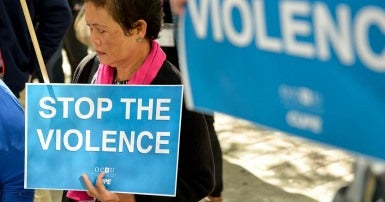 Violence against health care workers is greater than in any other sector. In support of Ontario's 27,000 hospital staff in their ongoing provincial contract talks, hundreds of convention delegates rallied yesterday to call for an end to violence in the health care sector and better protection against workplace violence.
"Many of the laws that protect workers – all workers – not just those who belong to a union, are there because of the activism of unions to make workplaces safer. We should never forget that," said  CUPE National President Mark Hancock.
"I proudly recognize and support the commitment of our Ontario hospital sector members, who have put violence squarely on the bargaining table."
Treena Hollingsworth, a personal support worker, said that many health care workers who have been assaulted on the job are so physically or psychologically scarred that they may never work again.