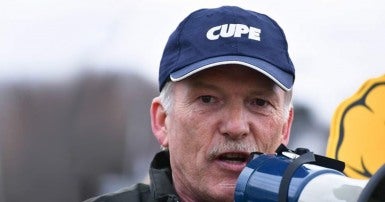 Today, Steve Drost has been elected for a 2-year term as Provincial President of the New Brunswick Division of the CUPE. More than 200 delegates, representing CUPE locals from across the province, elected Drost to lead New Brunswick's largest union. The vote was conducted Saturday afternoon at CUPE NB's 58th Annual Convention, which took place virtually Friday and Saturday.
"I will do my best each and every day for all our members, to make sure we are truly listening and making CUPE NB a grassroots, member driven Division. I am honoured to be your president," said Drost to delegates. Drost, who has been Vice-President of CUPE NB for the last two years, takes the place of President Brien Watson.

"I have been working for over 44 years in the education sector, so I am looking forward for retirement," said Brien Watson.  "I wish Steve all the best in his new role," said Watson.
"It's an honour to follow in the foots steps of Brother Watson, who diligently served his 2-year term as Division President. He picked up the "Bargaining Forward" campaign, and took head-on the enormous curveball that is COVID-19," said Drost.
Sharon Teare, herself a Personal Care worker at the St John & St Stephen Home in Saint John and President of the NB Council of Nursing Home Unions, has been elected for a one-year term as CUPE NB's First Vice-President. Drost and Teare will join Kim Copp on the CUPE NB inner executive. Copp is currently the CUPE NB Secretary Treasurer and works as an LPN at the Forestdale Home in Riverside Albert.
"With those two great leaders by my side, we have what it takes to mount the challenge against Blaine Higgs's "Zeros for our Heroes" wage freeze plans and his anti-worker politics," said Drost.
Drost has been President of CUPE 1418, Rehabilitation and Therapy since 2013. He began his career as a practicing social worker in 1988. At present he is a Clinical 3 Social Worker and has been practicing front line Social Work in Child Welfare his entire career.
"Brother Drost is a dedicated activist. I'm confident our Division and the labour movement will grow even stronger under his leadership," said Brien Watson.
CUPE NB represents 28,000 members in more than 200 locals. This includes workers in health care, education, nursing homes, municipalities and transportation. Find us online at www.nb.cupe.ca or follow us on Facebook.com/cupeNBscfp/