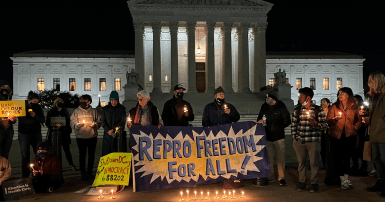 Statement from CUPE National President Mark Hancock and CUPE National Secretary-Treasurer Candace Rennick on the US Supreme Court overturning Roe v. Wade:
CUPE is alarmed and deeply concerned by reports that the United States Supreme Court is poised to overturn the nearly 50-year-old Roe v. Wade decision which recognized a woman's constitutional right to choose to have an abortion without government restriction.
On behalf of 700,000 CUPE members across Canada, we share the shock and concern of women in the United States this week, and are sending them our strength and solidarity. We know this decision will impact underprivileged and vulnerable women the hardest.
Let's be 100 per cent clear: restricting women's access to abortions means restricting women's access to health care. You cannot ban abortion; you can only ban safe abortion. This decision will put countless women at risk.
We are all too aware that political currents in the US often foreshadow things to come in Canada. We need to remain vigilant. Already far too many women cannot access abortion services in Canada in their communities. CUPE will remain a steadfast advocate for defending a woman's right to choose, and strengthening and expanding women's access to health care.
Photo credit: vpickering. This work is licensed under Creative Commons Attribution-NonCommercial-NoDerivs 2.0 Generic (CC BY-NC-ND 2.0).