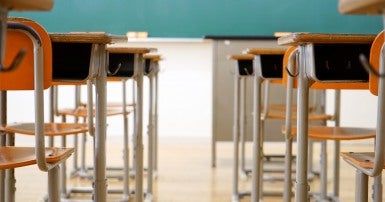 The final disturbing picture of cuts at Upper Canada District School Board (UCDSB), in Ontario, has education workers worried about the effect on students in the coming school year and wondering whether parents realize the consequences that reduced services in schools will have for their children.
A conclusive tabulation by CUPE 5678, which represents over 1,500 education workers at the board, reveals that the board has eliminated an estimated 140 full-time equivalent jobs, affecting a total of 177 education workers and untold numbers of students. 
The elimination of these positions follows the decision by UCDSB trustees to prioritize balancing its budget over providing high-quality services for students, say leaders of CUPE 5678.
"UCDSB could have chosen to side with students and their education by refusing to implement cuts. But instead they chose to bring in a budget that complies with Ministry of Education requirements, but cuts services, eliminates 140 jobs, and hurts students and workers," said Carole Airhart, president of CUPE 5678.
The loss will mean drastically diminished services in the coming school year, especially for children with special needs, said Airhart. "I'm afraid that parents don't yet realize how losing the people who support students' education will affect their children. Every lost job represents vital services that UCDSB students won't have next year."
Compared to last year's staffing numbers at UCDSB, September 2019 will reflect the lost services of
62 education assistants
27 early childhood educators
21 school library workers (Learning Commons Informationists)
11 elementary school office administrators (hours reduced to 30 hours per week from 35)
29 secondary school office assistants (jobs either eliminated or reduced to half time)
2 instructors for English-language learners 
TR Leger School of Adult, Alternative and Continuing Education has also had 10 positions cut from its alternative education staff, including instructional assistants, the team lead for Literacy Basic Skills (LBS), LBS instructors, and office clerical support. 
Of particular concern to Airhart and her colleagues, is the complete elimination of the classification of speech language assistants (SLAs); there were 11 positions throughout UCDSB schools.  "SLAs worked with students in need, helping them to develop their speech and language skills. Without them, I don't know who will implement the individual programs designed for each of these children," said Airhart.
"The loss of such frontline jobs should be a matter of deep concern to parents," she continued, promising that she and her colleagues would continue to work with parents, community groups, and other allies against cuts and the effects they will have on students' success.
"These cuts will mean real struggle and hardship for UCDSB students and their families, just as they do for students and families across Ontario," said Laura Walton, president of CUPE's Ontario School Board Council of Unions (OSBCU). "We will do everything we can to support the fight to restore services that support students' education."